No matter how simple and small your house is, it feels incomplete if there are no chairs in it. Chairs and benches are one of the most important furniture in the house. One type of favorite chair which has comfortable characteristics to use in a long duration is armchair (a seat equipped with armrest).
If you are currently looking for a chair for your home, the following article may help you pick your choice by presenting to you list of 10 affordable armchairs for your urban house.
This armchair comes with a minimalist design and soft color on the fabric. The frame is made of Birch wood (whose tree grows in Europe and parts of Asia) which is light-colored with clear acrylic lacquer finishing, combined with tubular frames made of stainless steel.
The foam material and the backrest is made of polyurethane foam 20 kg / cu.m. and cotton cloth cover.
According to the manufacturer, most of the materials used for making this armchair are materials that can be recycled or reused, and inline with sustainable production guidelines.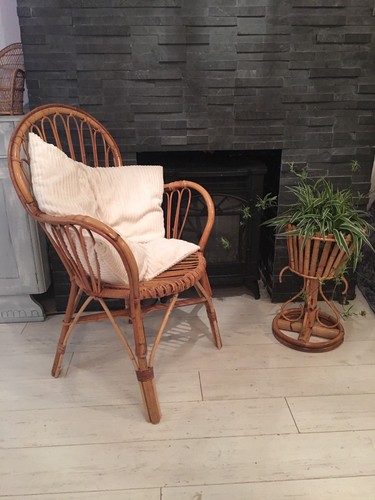 This armchair is a vintage style armchair made of bamboo. Although it is a used items, it still in a good condition as can be seen from the picture.
This kind of chair will be very interesting when placed in the living room in your modern-minimalist style urban house.
Typical shiny brown bamboo shades will also fit perfectly into a room with light-colored polished cement floor materials.
Unfortunately, the armchair is available only to local buyers in the UK. So, for those of you who are interested should get ready to be disappointed :).
Seats with styles such as AGEN armchair is the type of armchair that you may encounter most often.
The main material are woven rattan and bamboo as its frame. The shape allows this type of seat to be stacked when storing, so it is more efficient.
You can add a chair pad on this type of chair to feel more comfortable when you use it.

This armchair is quite different from the previous three seats. With a wooden frame, the seat and the arm rest is coated with foam and black/white patterned fabric.
Armchair with this style will be suitable if placed in the dining room in a minimalist urban home with white/bright wall color as an accentuation.
One advantage of this seat is the height of the seat can be adjusted up to 44 cm maximum.
This chair has a pretty attractive shape and has several color choices. There are seven color options to choose from: Ruby Vienna, Blue jay Vienna, Vienna Custard, Vienna Graphite, Pale Khaky Vienna, Teal Vienna, and Gray ++.
All of the colors are bright colors, so this will certainly bring a positive mood when placed in your home.
The wooden frame of this chair is made of Mindi wood, with foam pads wrapped in a special fabric so it is comfortable to use.
Although the price range of this armchair is already higher than the previous five armchair, the POÄNG Armchair price is still under 1 million rupiah. This means it still relatively affordable compared to the other type of armchair mostly sold on the market.
The frame is made of laminated wood formed arch, with black-brown finishing.
The seat cushion is made of 35 kg/cu.m Polyurethane foam with 100% cotton cloth wrapped, so it looks quite comfortable and ergonomic.
This Armchair looks quite attractive with a modern design and light impression. Available in four color choices: black, blue, white, and red, this quality plastic seat can bring a modern impression in your urban home.
This HOLMSELArmchair is made of rattan as main material with black finishing. The shape is quite unique and interesting and suitable for relaxing. The material choices certainly make this chair quite light yet sturdy.
The design of this chair looks quite simple with a solid angular Mindi wood frame. At first glance this chair seems less ergonomic.
However you will not know until you sit on it. With a price range that is still below 1 million rupiah, this chair can be one of your preferred alternatives.
10. Bamboo chair (Lincak) (200K-900K IDR)
Well, me myself prefer this bamboo chair. It is cheaper and local product. Sit or even sleep on this chair always reminds me of the comfort of living in the village in my childhood. 🙂
How about you? Which armchair do you prefer?